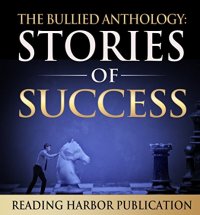 Free on 25th Jul 15



or borrow free on Kindle Unlimited.
No reviews yet.
"The Bullied Anthology: Stories of Success" is the cumulative work of those who have survived bullying to become wildly successful. Best-selling authors, celebrities, entrepreneurs, teachers, philosophers, lawyers, social workers, and martial arts gurus come together to share their experiences of having been bullied, coming to terms with themselves, and of their eventual triumph over seemingly insurmountable obstacles.
It is often said "that which does not break you, makes you." Such is true and reflected in each of the stories of shared here. The anthology recounts personal stories of those who have experienced first-hand the hardship of being bullied by peers or even parental figures. As well as, it relates the steps each individual took to change his or her own destiny from a victim to a victor.
Bullying is a horrible obstacle to have to face. However, many people do face it on a regular basis through no fault of their own. This book shares experiences of those who were attacked, targeted, and picked on. These individuals were able to heal themselves, pick up the pieces, and be able to not just survive but thrive.