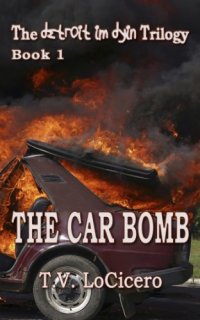 Detroit's top TV newsman Frank DeFauw hunts down the story of a judge who may be corrupt—and is one of his best friends. Booze, drugs, womanizing and a passion for the news are all part of what makes brilliant, erratic Frank a major player in this deeply troubled city.
Plagued by his own dark pleasures and followed by a deadly assassin, Frank is finally forced to decide if digging out the truth about a bribe to his pal the judge is worth risking his career, his family and his life.
With supple prose, brilliant dialogue, complex characters and a twisting plot, this opening salvo of The detroit im dyin Trilogy is a fast-paced urban crime thriller, a classic noir story of corruption, betrayal and murder.
"A compelling and wonderfully written piece of urban crime fiction…LoCicero has produced a gripping tale of corruption and redemption in Detroit."–Victoria Best, Tales from the Reading Room
"a brilliantly composed and complex thriller… fast moving and gripping"–Christoph Fischer, author of The Luck of the Weissensteiners
"TV anchor Frank DeFauw is a wonderful mixture of cynicism, vanity, self-doubt, weariness and wit. A kind of local princeling, his boozy, womanizing path illuminates everyone he encounters in this tight and vibrant thriller, as well as the dark city in which it is set."–Patrick, Amazon Reviewer