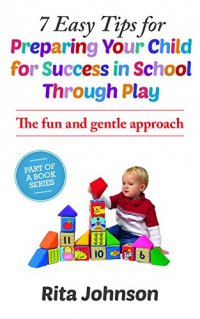 Free on 31st - 2nd Jun 20



or borrow free on Kindle Unlimited.
No reviews yet.
HAVE 40% BY PURCHASING THE ENTIRE SERIES "THE ULTIMATE CHILD CARE BOOK BUNDLE"
This book is also available in the THE ULTIMATE CHILD CARE BOOK BUNDLE bundle, which contains all 7 books in the series.
Are you ready for the next phase in your child's life? Now that the child is growing at they are almost ready for school.
Preparing your child for school doesn't have to be as daunting as it sounds with the tips in this book.This book will give your child an advantage because by practicing the tips with this book your child be more prepared and advanced academically before the rest of the their future class buddies . This book will share with you the easy steps that you can take to make learn easier and fun before they start school.
Here Is A Preview Of What You'll Learn…
Making communication as a foundation to all things

How to make reading a great habit

How to count easily on your fingers

Teaching your child about sharing

And much more!
The book is divided into chapters by topic and each topic contains tips to help make your mothering life easier.
Ready to grab your copy of 7 Essential Tips for New Mums:A Guide to the

First Weeks of Motherhood.
Check Out What Others Are Saying…
I must say that I was pleasantly surprised by the content of this book. First and foremost, the child care steps set out in it are very easy to implement. As a father of 3 kids, I am constantly trying to learn new child care techniques to make my children better people and preparing them for the real world. I do not want to give too much of the book away, but 2 major takeaways are talking to your child and sharing everything with them. These things seem like no brainers when it comes to child care, but Rita explains things in a way that makes you think a little differently. I especially like the part in which she talked about correcting their speech. Don't make them feel stupid, just respond to them in a grammatically correct way, which gets them to hear the proper use of the words. Great child care tip and a necessity in preparing children for school. All in all a great book for easy to implement child care tips.
Great! Simply scroll up to the top and click on the yellow 'buy now' button and you can have access to all these valuable tips in a matter of minutes.

-Michelle