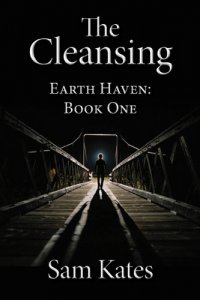 Free on 1st - 5th Dec 16


No reviews yet.
This book appears to be unavailable on Amazon.co.uk at the current time. If this is incorrect, please let us know here
Apocalypse unleashed, the Cleansing begins. Relentless. Survival, uncertain.
Seven billion people inhabit this world, unaware our destruction is at hand. Death arrives unheralded—swift and nearly certain—not from meteors or nuclear holocaust or global warming, but from a source no one even knows exists.
The architects of doom have moved among us, hidden in plain sight, waiting for the signal to trigger our extinction.
Blindsided, humanity falls. A handful of survivors, bewildered and grief-stricken, must face the new reality, and quickly. For while the Cleansing threatens our existence, it is only the beginning. . . .
"Sam Kates' writing style is elegant and deft, and his way with words is superbly meticulous. He paints a picture for the reader of color and space and emotion, but uses a light brush so that no two readers will see quite the same thing: he doesn't overburden the reader with description but leaves just enough, and just the right things, to the imagination. Kates has written some of the most powerful scenes anyone has put on paper, yet his writing is smooth, effortless, and supremely comfortable." —Adam Byrn Tritt, author of the award-winning sci-fi short story "Ezekiel's Wheel"