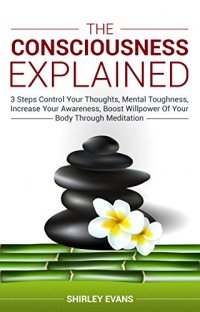 WHAT IS THE CONSCIOUSNESS EXPLAINED
Who are you? Where is the body? How to unlock your mind power?
Do you want to make change in your life and improve healthy?
The Consciousness Explained is the act of engaging in contemplation or reflection in order to attain a high level of spiritual awareness or high mindfulness. Basically, it is a technique to relax the mind in order to attain a state of consciousness other than the normally awakened state of being. Through the consciousness explained, you learn to explore your inner dimensions to better understand yourself and the central experience of inner consciousness.
This book, "The consciousness explained: 3 Steps Control Your Thoughts, Mental Toughness, Increase Your Awareness, Boost Willpower Of Your Body Through Meditation" is written to make it possible for readers to control their conscious thinking and eventually change their lives.
Inside you'll learn how to:
* Unleashing Your Consciousness
* Deepening Consciousness Through the Body
* Raising Consciousness
* Using the Power of Your Consciousness to Heal
And much, much more!!!
Don't delay finding out about the core value of your life. Scroll up to buy your copy today!