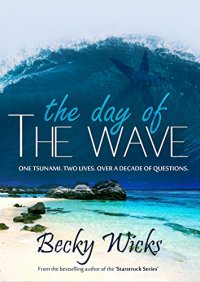 An inspirational historical romance novel following the real-life events of one of the world's biggest natural disasters – the 2004 Boxing Day tsunami.
One tsunami. Two lives. Over a decade of questions.
Torn apart by the tragedy. Thrown back together ten years later by destiny… Isla and Ben were just sixteen when the Boxing Day tsunami ripped through their beach resort in Thailand. Just days after forming a life-changing bond, both were missing and presumed dead.
Unbeknown to each other and haunted by one of the biggest natural disasters in world history, Isla and Ben are living very different lives, until over a decade later when a chance encounter throws them back together.
Based on real life events, The Day of the Wave is a story of healing, learning to let go, and figuring out when to hold on with everything you have left.
PRAISE FOR THE DAY OF THE WAVE
On an emotionally charged historical romance novel: "I fell in love with the characters in this book. The pain and heartache they went through. The strength it took to rebuild their lives and move on. This was so much more then a romance." – Lynn's Love Of BooksOn what people are calling one of the most inspirational new adult romance books for Kindle set in Thailand: "This book was amazing, incredible, wonderful, and so much more… It made my heart hurt, made my stomach hurt, and made me want to cry; all in a good way if that is possible!" – ArchaeolibrarianOn a historical romance novel that will give you ALL the feels: "My heart ached so much for the characters and for the real life victims of the Boxing Day tsunami… the story brought me to tears quite a few times." – Bloggers Heart BooksOn yet another book full of hope, romance and sex with a traveller's twist: "Becky Wicks is a pro at describing locales in her books so well, that you can feel the sand beneath your feet, the wind coming in from the direction of the ocean. Her books make me wish I had the ability to travel the world!" – ChristyHerself Book ReviewsOn a new book club book that will bring you to tears: "This was so much more than just a second chance romance, it's a tribute to the pain and suffering of a whole continent through a natural disaster and a testament to the strength of the human race after said tragedy." – Fiction Fangirls
˃˃˃ NOTE: This is a standalone novel by the bestselling HarperCollins author of the licious books and 'Before he was Famous,' 'Before he was Gone,' and 'Before he was a Secret.'
Scroll up to get your copy with just one click!