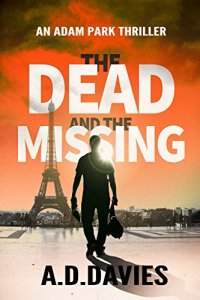 A brutal international underworld. A kidnapped girl. A PI determined to burn it all.
When Adam Park's former mentor recruits him to locate a vulnerable loved one, he learns very quickly that the girl is either the victim of an ex-con's manipulation or the brains behind the robbery of a major criminal enterprise. Whatever the truth may be, she is in mortal danger.
Tracking the pair from the UK to Paris, then Paris to Asia, Adam delves into the murky and violent world of human trafficking and extortion, where he must draw upon the darkest corners of his psyche to survive.
But these are facets of himself he has long denied exist. Bubbling just beneath the surface, Adam has kept his anger and violence caged all his life. Because he's a good person.
Isn't he?
The Dead and the Missing is the first Adam Park novel, a journey that launches a PI from the relative safety of the corporate world to the hard-boiled existence required to get the job done. At any cost to his soul.
??? Pick up your copy of this international thriller today!
Review from Readers' Favourite:
The Dead and the Missing is loaded with twists and turns and excitement, and had me holding my breath in fear several times, never being one hundred percent sure of how it would end. A.D. Davies is a very talented author.
Author Questions
Q: So, a private investigator travelling the world?
A: Yes, I love exploring exotic locations, and I love detective fiction, so why not combine them into a thriller?
Q: Quite hard-boilded?
A: It has some violence, more swearing than a lot of people would like, but I've tried to keep it in line with the character.
Q: Have we seen characters like Adam Park before? Lee Child's Jack Reacher series; Vince Flynn's Mitch Rapp . . .
A: Adam is perhaps 'of a type' but he's very different from Jack Reacher in that he is less of a loner, and perhaps a little more cerebral. He knows how to handle himself, but he's on a journey. Jack Reacher is absolutely certain of himself, while Adam is evolving. When we meet him in this first novel, he has never killed.
Q: Presumably that will change?
A: Let's just say a LOT changes for Adam over the course of this novel. It's a dark mystery, with action-adventure elements, but sits firmly in that noir crime genre where the protagonist isn't black-and-white.
Q: Will there be more to come from Adam? A: There are sequels available now, and more planned for the future.
Q: And when you say 'sequels' does each book follow into the next?
A: While there are ongoing story strands that span the series – such as Adam's personal life, and his battle with the darkness inside himself – each main plot is self-contained. While it would be advisable to read them in order, you absolutely don't have to.
Q: Finally, what is the correct reading order?
A: Well, start with the free Kindle edition of The Dead and the Missing then –
A Desperate Paradise
The Shadows of Empty Men
Night at the George Washington Diner(novella)
Q: And this isn't your only series, it is?
A: No, I have the Detective Sergeant Alicia Friend series. She's an unusually perky UK-based detective. Her first novel His First His Second is available on all platforms, so it's worth checking out if you like cops chasing serial killers. I also have a number of stand-alones that cover crime, murder, and straight-up action-adventure.
For more information on A. D. Davies, click on his author profile below, or go to http://addavies.com