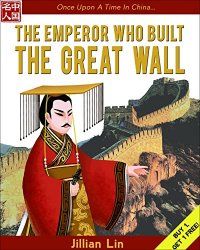 The Emperor Who Built The Great Wall
BUY ONE, GET ONE FREE!

Chinese New Year special! For a limited time, get another book in this series FREE when you buy The Emperor Who Built The Great Wall. For instructions on how to receive your free offer, see inside the book.
Meet the brilliant, all-powerful First Emperor of China. In this book, read about his interesting life and how he became one of the most important men in Chinese history.
Even though the First Emperor lived more than two thousand years ago, his memory still lives on. Each year, thousands of people visit the Great Wall, as well as the army of Terracotta Warriors hidden in the emperor's secret tomb. And did you know that China was named after him?
In The Emperor Who Built The Great Wall, discover for yourself why he built the Wall, how he made China the biggest country on earth, and what he hid in his secret tomb.
The simple language and beautiful illustrations make The Emperor Who Built The Great Wall a wonderful beginner/early reader or bedtime story. It is suitable for all ages, but children aged 5-12 years will especially enjoy reading, listening to, or reading along with this book.
About the Once Upon A Time In China… series
China has a very long history that includes many fascinating stories, but often they are too complex for young children to read. For this historical fiction collection, Jillian Lin has rewritten the most well-known tales as simple, engaging short stories, for kids from age five to enjoy and at the same time, learn from. While some stories sound almost like fairytales, they are all based on true historical facts. Fully illustrated, each book contains the life story of a famous figure in Chinese history, a list of interesting facts, a quiz, and a map.
Other books in this book collection are:
– The Miracle Doctor (to be released in March 2015)

– The Mountain Man of Words and Music (to be released in April 2015)

– The Dreamer of Stars (to be released in May 2015)

– The King Without A Throne (to be released in June 2015)

– The First and Only Female Emperor (to be released in July 2015)

– The Greatest Explorer in the World (to be released in August 2015)

– The Pirate King (to be released in September 2015)
Sign up to my mailing list at www.jillianlin.com to be the first to hear about my new releases and get a free book.