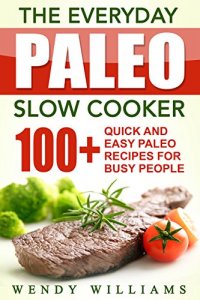 Free on 26th - 30th Sep 16



or borrow free on Kindle Unlimited.
No reviews yet.
Assemble Healthy and Tasty Paleo Meals in less than 20 Minutes!
Have you recently started on Paleo Diet and now looking for a way out of slaving away hours in the kitchen preparing the next meal?
Or….you are a seasoned Paleo person who has achieved the weight loss target and now want to continue on Paleo because of the numerous Health benefits.
Maybe you have tried a few Paleo Slow Cooker cookbooks already but all you got was 20 variations of the same recipe with ingredients you have never heard of and steps that will keep you engaged for the day.
Now you can say GoodBye to the Daily Grind of making fresh and healthy Paleo Meals!
This Book Will help you make your Paleo Lifestyle Easy and Uncomplicated! Now you can assemble ingredients, dump them in the Slow Cooker and come back after 8 hours to a delicious and wholesome Paleo Meal. You will FREE UP at least 2 HOURS everyday to spend with your Family and Loved Ones while still enjoying all the health benefits of Paleo. No spending hours chopping, slicing, dicing and stirring. No need of superior knife skills to make a dish or spending hours in clean up. With proper planning and help from this book, you will spend less than 20 minutes preparing a meal.
This is not your Average Kindle CookBook!
This book is a PRACTICAL Paleo Slow Cooker cookbook to help you make EVERYDAY Paleo Meals. It is designed to give you maximum value with minimum fuss. It has 100+ recipes that you will actually use in your everyday cooking. The recipes are arranged to help you navigate easily. Each recipe contains simple step-by-step instructions that are well organised and easy to read. With the help of this book you will
Spend more time relaxing in the evenings and not in the Kitchen
Eat delicious and healthy meals that are easy to prepare
Meet all your diet goals effortlessly
DO YOU WANT TO

Forget sifting through hundreds of bad recipes to find a few good ones.
Overcome the struggles of preparing Paleo meals.
Free up your time for better things than constant tending, stirring and watching.
Forget the days of undercooked and burnt food.
Forget the hours of cleanup after cooking a sumptuous meal.
Then, LOOK no FURTHER….
This is the only Paleo Slow Cooker cookbook you will ever need.
Don't spend ENDLESS hours in the Kitchen.
LET this cookbook HELP you make the MOST out of your Slow Cooker.
Don't Wait! Take Action Now!
Don't hesitate, pick up your copy NOW by clicking the BUY NOW button at the top of this page!