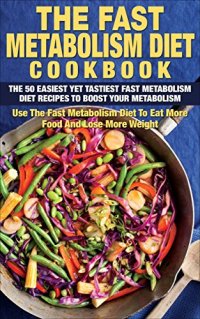 Free on 9th - 13th Aug 15


No reviews yet.
This book appears to be unavailable on Amazon.co.uk at the current time. If this is incorrect, please let us know here
Today only, get this Amazon bestseller for just $0.99, and you can get a FREE copy of the companion book "The Fast Metabolism Diet" with a simple 7 day metabolic-boosting nutrition program to help you skyrocket your metabolism by simple tweaking your meals! Regularly priced at $9.99. Read on your PC, Mac, smart phone, tablet or Kindle device
Eat More Food, Lose More Weight. Use These 50 Simple, Delicious And Effective Recipes To Boost Your Metabolism And Get Fit For Life!
A fast metabolism is perhaps the most underrated yet powerful methods to losing weight, getting fit and (most importantly), staying fit for the rest of your life. By simply having a high metabolism, you can

Get The Physique And Body Of Your Dreams Eat And Enjoy More Of Your Foods While Burning And Torching Away Your Unwanted Fat At The Same Time Turn Your Body Into A Fat Burning Machine, That Runs On AutoPilot Not Have To Diet Or Go To Extreme Lengths To Achieve Your Fitness Goals
Ever have that one friend who seems to eat everything but can't gain a single pound of fat? Stop being jealous, and instead, learn how you can do the same!

You're about to discover how to boost your metabolism and skyrocket it to new heights by simply tweaking your meals and implementing the recipes outlined in this book. By learning the Fast Metabolism Diet Recipes, you will learn the easiest yet most delicious recipes (that you can make in as little as 5-10 minutes) that thousands of people have used to live a healthy life of their dreams. No more crash diets or working tirelessly to achieve your fitness goals: by simply increasing your metabolism, you'll be able to attain the body of your dreams, lose weight/build muscle, all while not having to spend a fortune, crack your brains or make a huge dramatic change to your life.
Eat More Food, Lose More Weight

There has been this consensus that in order to lose weight, you need to eat less and exercise more. This book essentially disproves that. The recipes mentioned here in this book are specifically designed to fulfil all of your cravings, appetites and tastes – all while maintaining a slim figure, losing weight and boosting your metabolism! As these recipes are so nutrient dense, you'll be guaranteed to be full and satisfied knowing that you've just successfully boosted your metabolism in the process. Instead of 'controlling' or 'limiting' the number of foods you eat to maintain your figure, these recipes work in the opposite way – the more you eat, the more you benefit! Think of it like eating vegetables – the more you eat them, the more weight you lose in the long run. These recipes work in the same way, but are way more delicious and fun than eating veges all day.
Here Is A Preview Of What You'll Learn
A FREE Copy Of The Companion Cookbook "The Fast Metabolism Diet" With An Easy-To-Follow 7 Day Program Guaranteed To Boost Your Metabolism And Put These 50 Recipes To Work50 Carefully Crafted And Designed Recipes To Skyrocket Your Metabolism To New HeightsThe Step-By-Step Guide On How To Prepare The 50 Recipes In Record TimeRecipes That Cover All Types Of Meals And Occasions – Breakfasts, Lunches, Dinners, Get-Togethers etcLazy Metabolic Boosting Recipes That You Can Prepare In 5 Minutes – For Both The Busy And Lazy PersonMouth-Watering Dessert Alternatives That Taste Just As Good (If Not Better) And Help You Lose Calories, Not Gain ThemQuick, Easy And Tasty Fat Burning Recipes That'll Leave You Full And Wanting More, While Boosting Your Metabolism Much, much more!
Download your copy today!
Take action today and download this book for a limited time discount of only $0.99, and you can get a FREE copy of its companion ebook available for download right away!
Tags: the fast metabolism diet, the fast metabolism diet cookbook