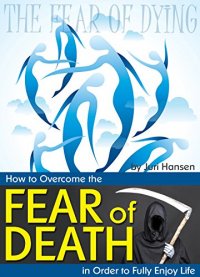 Free on 22nd - 26th Apr 16



or borrow free on Kindle Unlimited.
No reviews yet.
If your biggest fear in life is that of death, or being altogether eliminated from existence, then this book is for you!
Read on your PC, Mac, smart phone, tablet, or Kindle device.
To most of us, the thought of death and the idea of what happens after life on earth is unsettling at best. Some people can easily shake off this fear of the unknown, instead using the certainty of death as motivation to make the most out of life while it lasts. But the fact that nobody has definitive answers for questions about death can seem terrifying to other people. Their fear of death causes a sort of emotional paralysis, whereby the quality of their life actually suffers because the fear is so great that it renders them unable to fully enjoy life and all that it has to offer. If you are among those who fear death and have trouble shaking the fear off, then this book can help. I'm going to provide you with no-nonsense methods of facing your fear, recovering your zest for life, and regaining control of your present. Since there's no point in worrying about what is yet to come, let's get started so that you can soon be able to fully appreciate the here and now.
Here Is A Preview Of What You'll Learn…
What Death Has To Do With LivingHow to Identify What You REALLY FearWhen Your Fear of Dying Affects Your Loved OnesHow to Overcome Your Fear of DyingWhy We Don't Know What Exists Beyond DeathMuch, much more!Download your copy today!