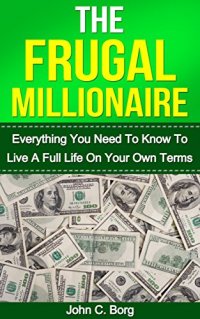 The Frugal Millionaire


For a limited time at this reduced price, grab a copy of this best selling author's take on becoming a frugal millionaire. Read it today on your Mac, PC, Kindle, Tablet or Smartphone


Inside you will learn all about how you can join the ranks of the Frugal Millionaires everywhere. Furthermore, you will learn all about Financial Freedom, Frugal Living, Retirement Planning, and how to Simplify your life by Downsizing. You can choose to be a Minimalist if you want, but there is a better way, as you will soon see.


Here is a preview of what you will find in the book:
The True Meaning Of Being Frugal

The Importance Of A Proper Mindset

Understanding The Difference Between Good and Bad Debt

How To Live Modestly

Learn To Separate Your Needs From Your Wants

How To Spend Less Than You Earn

How To Invest Like The Pros

Receiving Pleasure From The Little Things

Inexpensive Forms Of Entertainment
And Much Much More


The content of this book is guaranteed to turn on a few light bulbs in your head or your money back. You will not be disappointed!


Take Action Right Now And Click The Orange Button On The Top Right Side. You Can Be Reading Your Own Copy Right Away!


Thank You

John C. Borg