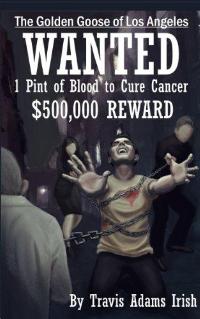 Do you love Thrillers? Take a wild ride with: danger, intrigue, betrayal, and the dark exploration of self- jaw-dropping revelations, and intense characters.
This new, fast-paced story may be too much for some to handle, as it leaves many feeling: on edge, shocked, and haunted by the nature of humanity.
Rory Chambers is an extreme sports expert who helps people to partake in every adrenaline inducing experience that California has to offer. However, his life becomes complicated when it is discovered that, due to a special protein produced by his body, his blood can cure a variety of terminal illnesses, including deadly cancers, and pathogens such as HIV.
When the medical experts report their inability to create a vaccine artificially, Rory finds that there is no shortage of rich and powerful people who are desperate for a second chance… Desperate enough to carve it straight from his body.
Regardless of what his career in extreme sports has taught Rory about fear; nothing can prepare him for the unpredictable ride, and lascivious betrayals that are borne by the human psyche.
When his blood is valued at over $500,000 a pint, and so many dying people are looking for another chance; how will he keep the world from draining him of everything?
For a thrilling experience that is not to be missed, order a copy today!