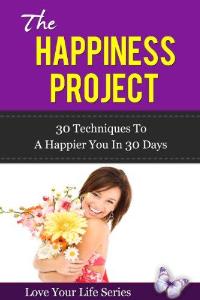 The Happiness Project
30 Techniques to a happier you in 30 days!
Have you ever….
Thought you would like to be a little bit happier?
Wondered how do most people stay happy all day?
Wondered what everyone else is doing that is so different from you
Or maybe you've just wondered how to get your smile back…..
Whatever your reasons for wanting to be happier this book is for you!
This book is action packed full of great idea's to help you get to the happiest version of you, you were born to be…

In this book you will find the answers on how to be happier including:
How to recognize if you are not as happy as you could be?
What some of the biggest things are you can do to change your mood right now
How to become a happy you in 30 days or less
What you can do everyday to help become the happiest you you can be
And much more!
This book also comes with a one page Action plan you can use Immediately to help you get happier today!
Your about to discover all of these things and more with The Happiness Project: 30 Techniques to a happier you in 30 days!.
You wont find your usual and boring old tips you've heard millions of times before. This guide is full of up-to date information, hot of the press and will help you reach goal of a happier you in no time!

Download your copy today!
Check Out What Others are Saying…..
"This was a great book with helpful ideas how to improve life,
I like the way it is written and it is full with great information, truly a
pleasure" -Lisa Carter
"Great Book. This was full of practical and useful tips to make my life better! I
loved this book, it is easy to read, clear and the perfect size to refer back
to. Loved it!"
Reviews:
No reviews yet.
Third Party Reviews:
No reviews yet. Why not link one?

You can suggest a blog review here
---