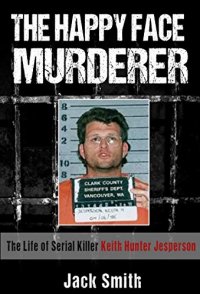 Keith Hunter Jesperson, The Sad Story of the Happy Face Killer
Download FREE with Kindle Unlimited!
Stories about serial killers are incredibly popular. Tracking down a mass murderer is a regular plot line in films, television, and literature. But these stories are so often based on real life. In certain circumstances, however, real life goes a step beyond what we could imagine happening in fiction. Sometimes, the actions of a serial killer can seem so extreme and strange, their motivations so twisted and evil, that we struggle to comprehend exactly how they fit into the modern world. In the case of Keith Hunter Jesperson, the truth behind his murder spree is more horrific than anything dreamt up by Hollywood?s best screenwriters.
After a disturbing childhood left the giant of a man riddled with emotional and psychological scars, Jesperson traveled across Canada and spent time strangling and killing women whom he met along the way. While he was only convicted of eights murders, his own boasts suggest that total could have reached as high as 160. As a truck driver, he had the perfect cover story for traveling from town to town without having to put down roots. Often leaving an unsuspecting family at home, he was out in the wilderness committing heinous acts without anyone from the authorities coming close to suspecting his guilt.
Jesperson, annoyed by the lack of attention he was receiving, began to leave messages to the public. Scrawled onto the walls of truck stop bathrooms, he signed each confession with a happy, smiley face. This led the media to nickname him the Happy Face Killer. It was decades before the investigators came close to catching the killer, so read on to discover just how Keith Hunter Jesperson managed to get away with numerous horrific murders. This is the story of the Happy Face Killer.
Read on your favorite devices such as Kindle, IPhone, IPad, Android cellular phone, tablet, laptop, or computer with Amazon's free reading Kindle App.
Scroll back up and click the BUY NOW button at the top right side of this page for an immediate download!