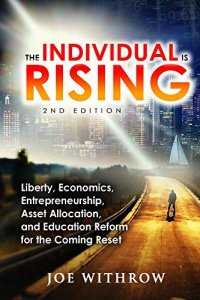 Free on 1st - 5th Jan 16


No reviews yet.
This book appears to be unavailable on Amazon.co.uk at the current time. If this is incorrect, please let us know here
Are you paying attention?
There's something going on that they don't want you to know about. Everything looks normal on the surface, but something is fundamentally wrong – isn't it? You can feel it.
The truth is, a massive financial reset is already underway. The 2008 financial crisis that nearly collapsed the global financial system was never fixed; it was papered over. Trillions of dollars have been created out of thin air to accomplish this. The problems are now much larger.
The banks are bigger. The governments are bigger. The debt is bigger. The derivative market is bigger. The leverage is higher. The system is more fragile than ever.
These problems are neglected on your television programming, but they are obvious for those who simply look. We are living with a legacy financial system constructed by 20th century thinking. The rules have changed, but our approach has not.
There will be ten thousand people turning 65 in the United States every single day for the next decade. Each of these people will expect the legacy systems they supported their entire life to now support them.
But there is a problem.
These legacy systems already run deficits, and there are far more people exiting the systems than entering them.
Change is approaching…
Those who recognize the coming reset can position themselves to weather the storm, and thrive in its wake. Those who remain ignorant to what is coming will fall behind.
If you want to understand this budding financial reset and learn specific strategies you can implement to put yourself in a position to thrive then The Individual is Rising may be the most important book you read this year.
This book is not about propagating fear, worry, or doubt; it is about understanding followed by action. It is about implementing anti-fragile strategies to weather the macroeconomic storm created by the central bank/national government alliance. It is about fundamentally challenging the conventional wisdom of the status quo. It is about creating a future based on individual self-empowerment.
Are you watching?
The individual is rising.
Here's what others are saying about The Individual is Rising:
"A wonderful book that covers a treasure trove of ideas and information that sticks a dagger in the heart of collectivism." – Jeff Berwick, founder of The Dollar Vigilante and TDV Media & Services
"The Individual is Rising challenges status quo thinking about liberty, money, wealth, and the potential for dark times ahead. Withrow goes on to layout a clear blueprint for taking control of what an individual can do today to protect themselves and have a positive impact on righting the ship. The individual is rising and I want to be a part of this peaceful and prosperous revolution!" – Joey Mertlich, Infinite Banking Advisor at Evergreen Life
"Joe Withrow can see the writing on the wall. Government authoritarians have painted themselves into a corner, and only time remains on their side. A great shift in beliefs about the role of government is occurring. "The Individual Rising" provides an easy to understand analysis of how government has created the major problems that we face, and how we individuals can do our part to deal with them.
Withrow puts the keys into your hands, right where they belong. Coercive government, and its one-size-fits-all ideas may surround us at every turn, but all change begins in the mind. The ideas of Liberty are rolling forward. The individual is, in fact, rising!" – Chris Rossini, author of Set Money Free: What Every American Needs to Know About The Federal Reserve and columnist at The Ron Paul Liberty Report