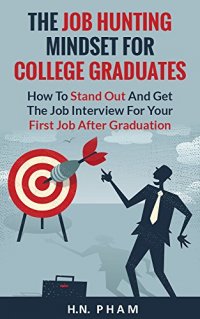 Free on 2nd - 6th Apr 15



or borrow free on Kindle Unlimited.
No reviews yet.
Learn The Job Hunting Game. Play Along And Get Your Dream Job
Finding a job that you love and one that is an amazing stepping-stone for your career is hard. You just graduated and have no real experience. I know exactly how you feel.
Besides, the competition is killing. With usually 50+ to sometimes hundreds of applicants applying to one job position, you may say that it's hard to stand out.
On top of that, the economy is perceived to be bad to find a job nowadays. With all these discouragements, how do you stay on top of your game?
Cultivate The Right Mindset To Reach Your Career Goals
The biggest reason why it's hard to find your dream job is probably because you're doing it wrong.
After all, we do what we know. And if the advice out there is outdated or just simply non relatable, how do you know what works?
In the Job Hunting Mindset, I talk about how you as a person can stand out from your competition and focus on getting the interview. What makes this book different is how it's related from the job searcher's point of view, with many personal case studies and stories.
Download The Job Hunting Mindset – How To Stand Out And Get The Job Interview For Your First Job After Graduation
In "The Job Hunting Mindset" you'll discover how you can set yourself up for successful applying for jobs. Not only will you get tips to write a good cover letter or design a good CV, you will also learn what it takes to be successful in your job search and application.
You will learn:
The First 2 Things You Should Figure Out Before Starting

Questions to Ask Yourself When Selecting Companies or Job Positions

Different Ways To Find Open Job Positions

A Pyramid Breakdown On How Companies Hire

Guidelines On How To Craft Your CV and Cover Letter

Ways To Work On Your Online Presence

4 Ways To Better Present Yourself To The Employer

4 Mindsets That Will Help You Become More Successful In Your Job Hunting

A Bonus Package Containing A CV and Cover Letter Example And More
You can get the job and kick start the career you want.
Would You Like To Learn More How To Get Better At Finding a Job?
Download now and start getting invited for job interviews.

Scroll up to the top and click the buy button.