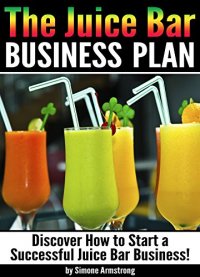 If you want to put to your health-conscious enthusiasm to work and set up your own juice bar business, then this book is for you!
Read on your PC, Mac, smart phone, tablet, or Kindle device.
Juice bars and smoothie shops are popping up everywhere these days, especially as society becomes more and more aware of the threat posed to our health by the convenient fast food industry, not to mention the general statistic of growing obesity. Not only is fresh juice refreshing and delicious, but it's also a great way to deliver a concentrated amount of vitamins and nutrients to a person's body. But better yet: for an owner of such a juice bar, it's a great way to make a profit.
But, what does opening a juice bar really involve? To begin with, intensive and thorough market research, followed by a smart and inventive business plan, naming your business properly, choosing a great location, outfitting yourself with the most efficient equipment, and of course last but certainly not the least, a very powerful marketing and advertising strategy. This book is designed to show you step-by-step how your genuine interest in being health conscious and supporting a the healthy lifestyle of others can be used to your advantage in setting up your very own thriving juice bar business.
Here Is A Preview Of What You'll Learn…
Crafting a Solid Business PlanConducting In-Depth Market ResearchNaming Your Business ProperlyFinding the Right LocationGetting a License to OperateIdentifying and Procuring EquipmentMarketing and Selling Your ProductMuch, much more!Download your copy today!