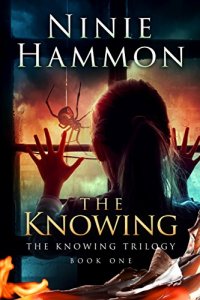 Free on 7th - 11th Feb 18



or borrow free on Kindle Unlimited.
No reviews yet.
It starts with a school shooting.
It ends with the return of an evil as ancient as the skeleton of the universe.
In the middle, normal garden-variety people must figure out how to live their everyday lives–how to survive!–after they discover that all those Bible stories about demons and angels…they're true.
When the hot call comes over the radio: "Code Red! Active shooter at Carlisle Elementary School," Police Sergeant Jack Carpenter has only one job: find the gunman; take him out. Carpenter rushes into the school, fully armed and focused on cold, hard reality. But what happens to him in the next few hours shatters the world as he has always known it. And in the next three days, everything Jack Carpenter believes about himself, about life and reality, about good and evil and the whole nature of the universe will be challenged.
Can it possibly be true–seriously?–that invisible demons prowl among us every day?
That there exists in the real world a winged creature more horrifying than any Hollywood-animated, computer-generated, mechanical unreality?
And that the single-minded mission of that beast–a creation of absolute, soul-less evil–is to kill Jack Carpenter?
That's crazy! Fairy-tale-science-fiction-horror-movie-bogeyman crap!
Bottom line: it flat-out cannot possibly be true.
But it is.
In this first book in The Knowing Trilogy, award winning journalist and bestselling Christian suspense and thriller author Ninie Hammon begins a sprawling tale of spiritual warfare that spans a quarter of a century. If you enjoy sleep-with-the-lights-on suspense coupled with characters so lifelike they'll feel like family, The Knowing will open up for you a world you probably don't want to believe is real. But it is.
Interview with the Author
Q – What makes The Knowing special?
A – It's real. Some things really are unexplainable. As a paranormal thriller, The Knowing can be disturbing but it's not about zombies or vampires or people who turn into werewolves or giant bears or attack-gerbils. The characters in The Knowing are folks you could bump carts with in a small town grocery store, so when the unexplainable starts to happen to them, you realize the same thing could happen to you.
Q – Why did you write a series?
A – Because the story was too big for 1 book. Even for 2. Writing a series gave me the chance to tell a sprawling tale of spiritual warfare and dark psychic suspense that spans a quarter of a century. Something happened to these people when they were 12 years old, but every memory of that summer has been wiped from their minds.
Q – Is this Christian fiction?
A –There's no religion in it. There are scriptural realities, though, that most Christians say they believe–but really don't. Theresa Washington from The Knowing says it best: "The smartest thing Satan ever done was to get people to believe he don't exist." Some have called The Knowing dark and disturbing. I think I'd call it … a scary story about supernatural spiritual warfare–that's mostly true.
Q – Why should readers give this book a try?
A – Because it's a paranormal thriller set in a small town that will capture your heart and mind, grab you in a reality so gripping you'll decide you can fold the towels later and the lawn will still be out there to mow tomorrow. Don't start the book at bedtime or you might still be awake at dawn.
*Amazon Tags: Christian thriller, disturbing small town thriller, spiritual religious inspirational God, suspense thrillers and mystery best sellers, paranormal horror suspense, psychic thrillers Christian, gory sc