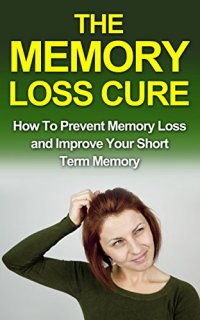 Bargain on 22nd Dec 16



or borrow free on Kindle Unlimited.
No reviews yet.
A Proven, Step-By-Step Method To Curing Memory Loss and Techniques to Improve Your Memory Right Now
Get this Amazon bestseller for just $2.99. Read on your PC, Mac, smart phone, tablet or Kindle device.
You're about to discover proven steps and strategies on how to start boosting your short-term memory right now. It can be scary to notice that you suddenly can't remember the "little things" – where did you put your keys? Why can you never remember this person's name? In this book, we'll see that for the most part, forgetfulness and mild memory loss are easily addressed, and we'll look at simple but powerful techniques you can start using today to strengthen your memory.
We will looks at different practical case studies and discuss specific exercises on how to improve memory in various scenarios. Whether you suffer from a mild form of memory loss or have a more serious case, these techniques and exercises will help benefit everyone. Caring for your health is always important, but your brain is something that connects you to the past and helps you hold on to memories of all the best things in life. With just a little care and attention, though, you can sharpen and improve your memory, starting right now!
Here Is A Preview Of What You'll Learn…
Explanation and Understanding Memory LossSigns and Symptoms – What to Look Out ForExamining Different Case StudiesEasy Memory Boosting Tips and TechniquesPractical Exercises to Try Right NowHow to Incorporate New HabitsStrategies to Improve MemoryWhen Memory Loss is More Serious and What to Do About ItMuch, much more!

Take action and download this book TODAY!
Check Out What Others Are Saying…
"Rarely does one find a well-written book which is so accessible to the general public, at the same time as being on the cutting edge of science. The book is overflowing with interesting science and concrete advice, dispelling many myths and providing hope. I strongly recommend it!" – Assiren, April 2015
"One thing that really strike me about this book is that all this time I thought memory loss was just a part of life, that we all are going down the path to forgetting. Thanks to this book I no longer have to fear memory loss, the tips and tricks to improving our memory are very easy and achievable, I love sudoku puzzles and reading challenging books so I'm quite relieved that my mind is getting all the good exercise it needs. I highly recommend this book to just anybody who wants their memory stay intact, I mean, who doesn't?" – Mecian, April 2015
"I've already begun applying some of the techniques I've learned and there has been a great deal of improvement!" – Jess, March 2015
"Follow these practical tips to enhance your memory!" – Rudy, March 2015
"I found this book very easy to read, well researched, and super useful! I will be using a lot of the tips mentioned for my husband and myself in the days ahead." – John, April 2015
"I've always had a problem remembering things. This has been a burden and I am constantly searching for salutations and tips. It's a good thing I remembered to purchase this book :) From explaining the different types of memory, the effects of diet, sleep and more to detailed techniques to change the situation like games, exercise and emotional empowerment. The book gave me the tools I need to start improving my memory. It works!" – Erica, March 2015
Tags: memory loss, memory loss cure, memory loss recovery, memory improvement, prevent memory loss, memory loss solution