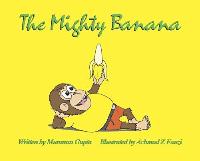 The Mighty Banana tells the story of a little boy named Noah who has a bad tummy ache after eating unheathy treats on his birthday.The doctor advices him to eat Bananas. His mother beautifully conveys him the hidden benefits of eating bananas. He learns that bananas are the most healthy thing in the world and wants more and more.
The beauty of this picture book is the simplicity of the verse. It is perfect for mothers whose children won't eat fruits and vegetables. This book is to be read aloud and is easy to follow.
About the Author
Munmun Gupta is presently working as an English Language Lecturer in Binus International University in Indonesia. She has also worked as a Kindergarten Teacher in India and Indonesia. She holds a Master's Degree in English Literature and has always been fascinated by the world of Literature.
She loves to write and deliberately tries to encourage young readers through her work. Her first book More Carrots for me was loved by both mothers and children as it beautifully describes the benefits of eating healthy vegetables.When not writing, she spends a lot of time running after her boys Dev and Neil who inspire her to write . She continues to write more Picture Books and hopes to uplift and bring smiles to her readers through her joyful stories.