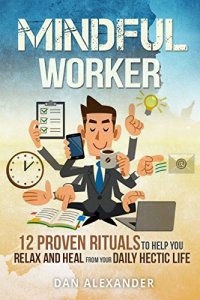 Free on 20th - 24th Dec 15


No reviews yet.
This book appears to be unavailable on Amazon.co.uk at the current time. If this is incorrect, please let us know here
DISCOVER: Rituals on how to live a physically and spiritually healthy life by tackling one of our worlds number one killer…STRESS!
Don't like how you feel at the end of everyday? Tired of always worrying and over thinking? Do you need help putting aside stress, relaxing, and regaining peace of mind?
All these challenges are covered in the book: The Mindful Worker:12 Proven Daily Rituals to Help You Relax and Heal From Your Daily Hectic Life
Author Daniel Alexander will show you ways to relieve stress and heal from it naturally.
This book is written for the person who is burnt out and for those who really need to solutions to eliminate stress. Daniel Alexander believes that everyone needs to balance their lives. Performing each day with energy and focus requires adequate time for down time or rituals that focus on re-energizing you and removing stress and strains from the day.Not only will you get back to a more centered you and ready YOU, you'll also discover key strategies for aura cleansing.
If you have a desire to live a physically and spiritually healthy balanced life, then download The Mindful Worker
Why You Should Check Out The Mindful Worker
This book will be a good fit if you:
o Want to live a physically and spiritually healthy life
o Want to strengthen your Energy Level
o Want to learn the poses for relaxation
o Want to self-heal by using breathing exercises
o Want to know the techniques on how to identify what's causing your stress and avoid it
o Want to learn how to calm your nerves
o Want to drive away the negativity in your life
o Want to discover different exercises for the sake of maintaining your health
o Want to eliminate stress and to heal yourself naturally.
The bottom line?
If you have unbearable stress and it's affecting your daily life then you should check out The Mindful Worker. This book will definitely help you get healing and relaxing!
Take action now! Pick up your copy today by clicking the Buy Now button at the top of this page
Tags: Stress relief, stress exercise, daily rituals, relaxation and stress reduction, relaxation exercises, self-healing, healthy lifestyle, soul healing, breathing exercises, yoga exercise, eliminate stress, natural healing, relaxation