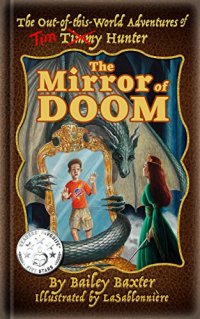 Free on 2nd Apr 17



or borrow free on Kindle Unlimited.
No reviews yet.
Also Available as:
Print Edition

Where Snow White's fairytale ends, Tim Hunter's begins.
Fairytale? Scratch that. Make it nightmare instead!
When 12-year-old Tim Hunter steals his sister Kat's diary, he thinks it's his chance to get enough dirt on her to last a lifetime. But, he doesn't count on his older brother Ron helping Kat chase him through his grandma's old Victorian home — although, frankly, he should have. And he doesn't plan on trespassing on the forbidden third floor — and getting locked into a dark, creepy room with scary old Uncle Edgar.
But what he really doesn't expect is the large golden object covered by a sheet in the corner.
A mirror. A magic mirror that once belonged to the Brothers Grimm.
A gateway to another world.
Thanks to a dirty trick and a shove by Uncle Edgar, Tim and his siblings find themselves on the other side of the mirror in a medieval land of castles, kings, and dangerous creatures.
Cool? Yeah, Tim thinks so, at first. But a run-in with a prince named Gavril and his not-so-merry-men changes his mind — and fast. It turns out there's a prophecy about three strangers from a distant land who will defeat the evil Queen Morissa, take back the land of Tryton, and restore the throne to King Gunther.
And guess who King Gunther thinks those three "deliverers" are. You got it… Tim, Ron and Kat. When given a choice between fulfilling the prophecy and rotting in a dungeon (until they're executed, that is), the three siblings are told that all they have to do is steal the queen's mirror — and bring it back to the king.
Sounds simple, right? But nothing is as it seems. And as he has to face enemy soldiers, horrible creatures called "galrogs" (who eat kids like Tim for lunch), and even a fire-breathing dragon, Tim has to wonder…
Can a kid with zero sword fighting skills — and the athletic ability of a slug — defeat a wicked, powerful queen and make it home alive?