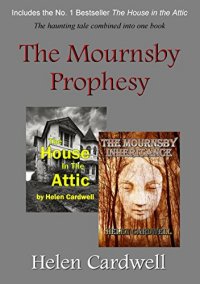 Free on 6th Sep 17



or borrow free on Kindle Unlimited.
No reviews yet.
Together for the time, relive the complete nightmare that is The Mournsby Prophecy. Follow Elinor and her friends as they battle the evil workings of the malevolent Mrs Barrowhyde.

The House In The Attic – Amazon bestseller. Despite her youth, Elinor has an affinity with death, a connection which deepens when she moves to the isolated village of Mournsby. Mysterious shadows stalk the streets, lights lurk in the abandoned graveyard. How are they linked to the curious house at Larchend and can Elinor solve the mystery before another victim is claimed by the century-long curse?

The Mournsby Inheritance – Realising she failed and that no-one is to be spared the Barrowhyde's wrath, Elinor has to face up to the consequences of choices she made years before. Sacrifices are required in order to save those she loves, but has Elinor over-estimated even her own unique skills as she enters into a confrontation from which only one can escape alive?