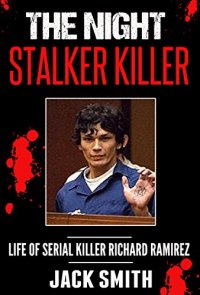 What does evil look like? Serial Killer Richard Ramirez certainly comes to mind?
Download FREE with Kindle Unlimited!
There are some people who travel so far beyond the pale of conventional morality that their actions almost seem like desperate works of fiction. Richard Ramirez is one such person, a Satan-worshipping drug addict who carried out one of America?s most brutal and horrific crime sprees. He burgled, raped, and killed his way across California and left the authorities with nothing to chase. Named the Night Stalker by the press, he seemed like a ghost. Striking fear into the heart of every single person in the area, no one seemed safe from the actions of Richard Ramirez.
In this book, we will examine his most horrific crimes while attempting to explain exactly what could drive a man so far from the moral centre of society. A difficult upbringing, brain trauma, and a troubled domestic situation certainly added to his problems, but many of Ramirez?s most damning actions were created entirely in his own twisted mind. This book will attempt to tell the story of the man who gouged eyes, scratched pentagrams, and butchered families. If there is any explanation for the crimes committed by the Night Stalker, then it likely lies between his past and his actions. In examining both, we will know the real person behind the murders.
Such is the nature of these ruthless, and cruel murders, the scenes depicted within will not be for the faint-hearted. There are few killers in American history who can come close to matching the vicious levels of violence inflicted by Ramirez during his wave of attacks. While names such as Dahmer and Gacy are remembered by the American public, the murders of the Night Stalker have long been forgotten. So read on and find out the truth behind one of America?s most shocking and horrifying serial killers.
Read on your favorite devices such as Kindle, IPhone, IPad, Android cellular phone, tablet, laptop, or computer with Amazon's free reading Kindle App.
Scroll back up and click the BUY NOW button at the top right side of this page for an immediate download!