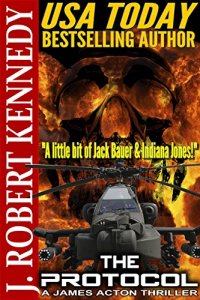 From USA Today bestselling author J. Robert Kennedy comes The Protocol, a globe-spanning, heart-pounding action adventure two thousand years in the making!
KINDLE EDITION NOW AVAILABLE AT A SPECIAL PRICE TO INTRODUCE YOU TO THIS POPULAR SERIES!
"If you want fast and furious, if you can cope with a high body count, most of all if you like to be hugely entertained, then you can't do much better than J. Robert Kennedy."
For two thousand years the Triarii have protected us, influencing history from the crusades to the discovery of America. Descendant from the Roman Empire, they pervade every level of society, and are now in a race with our own government to retrieve an ancient artifact thought to have been lost forever.
Caught in the middle is archeology professor James Acton, relentlessly hunted by the elite Delta Force, under orders to stop at nothing to possess what he has found, and the Triarii, equally determined to prevent the discovery from falling into the wrong hands.
With his students and friends dying around him, Acton flees to find the one person who might be able to help him, but little does he know he may actually be racing directly into the hands of an organization he knows nothing about…
• Amazon #1 Bestseller – Men's Adventure
• Amazon #2 Bestseller – Espionage
• Amazon Top 10 Bestseller – Action Adventure
About the James Acton Thrillers:
"James Acton: A little bit of Jack Bauer and Indiana Jones!"
The James Acton Thrillers series and its spinoffs, the Special Agent Dylan Kane Thrillers and the Delta Force Unleashed Thrillers, have over 600 Five-Star reviews and have sold hundreds of thousands of eBooks and paperbacks. If you love non-stop action and intrigue with a healthy dose of humor, try James Acton today!
Available James Acton Thrillers:
The Protocol, Brass Monkey, Broken Dove, The Templar's Relic, Flags of Sin, The Arab Fall, The Circle of Eight, The Venice Code, Pompeii's Ghosts, Amazon Burning, The Riddle, Blood Relics