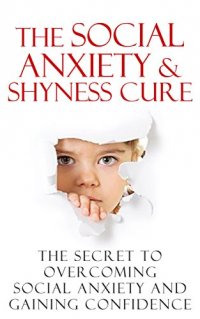 Discover The Secret to Overcome Social Anxiety and Shyness
For just $2.99 you can learn the best practices & proven strategies to overcome social anxiety and shyness!
Social anxiety is real and it can affect every aspect of your life making it hard for you to lead a normal life. If you are tired of that and want to put an end to your social anxiety, this book is what you need to start your walk towards a social butterfly version of yourself. It helps you understand social anxiety better, how it works, why you have it, what can be done about the situation, and how to build your confidence in the long-term.
You are going to learn A to Z what it takes to not only know what causes social anxiety, but essentially how to overcome social anxiety and gain confidence in the long term so you can lead a normal life again.

What You'll Learn
What is Social Anxiety?How to overcome Social Anxiety: recognize your triggersTackling the listCreating the conditions for overcoming anxiety and building confidenceStaying calm in the momentOvercoming your anxiety with timeAdditional tips to overcome social anxiety and shynessThere are many social anxiety books out there, but only few of them shed light on best practices and common mistakes associated with social anxiety, shyness and confidence. This book also touches the topics 'social anxiety disorder' and 'building confidence'.
Don't wait any longer and get this book now for a limited time only discount of $2.99!
Tags: social anxiety, social anxiety disorder, shyness, social anxiety and shyness, social anxiety books, social anxiety and shyness, overcome social anxiety, overcome shyness, overcoming social anxiety, how to overcome shyness, overcoming shyness, managing social anxiety, confidence, building confidence