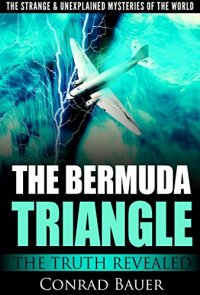 The Bermuda Triangle fascinates our imagination. Is it a natural phenomenon or does it have its root in the more obscure and paranormal? Let?s find out!
Download FREE with Kindle Unlimited!
The Bermuda Triangle is commonly regarded as one of the biggest mysteries of the present time, but what is it exactly? The mystery itself stems from several aircraft and ships that mysteriously disappeared inside the Triangle under strange circumstances.
In this book, we will explore the numerous theories and facts surrounding the Bermuda Triangle phenomenon.
The nature of the phenomenon lends itself to a myriad of theories, hypotheses, and explanations. These range from the religious and superstitious to the scientific and mundane.
Unfortunately, records of Bermuda Triangle events are often rife with false information, deceptive reports, and spun tales. Studies of the area are often performed with a bias towards one particular theory, leading to the unwarranted dismissal of hard facts or the acceptance of unreliable data that is then forcefully declared as truth.
You might be wondering now, ?How did the Triangle come to be?? Well, it?s hard to tell without falling into someone else?s trap. Nonetheless, let?s try to unravel the origin!
Inside, you?ll discover:
?All of the history and facts surrounding the Bermuda Triangle
?Paranormal and scientific theories about the Bermuda triangle
?An analysis of the Bermuda Triangle facts and possible explanation
?Similar Phenomena in the world
Read on your favorite devices such as Kindle, iPhone, iPad, Android cellular phone, tablet, laptop, or computer with Amazon's free reading Kindle App.
Ready to discover the hidden secrets behind the Bermuda triangle? Scroll back up and click the BUY NOW button at the top right side of this page for an immediate download!