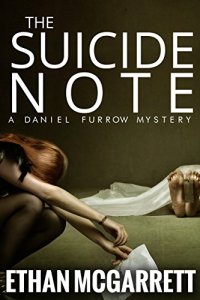 Bargain on 24th - 28th Feb 17



or borrow free on Kindle Unlimited.
Top - Reviews - Update Details
Daniel Furrow is a frustrated detective, who has been unable to solve his cases lately. Ever since his wife left him, he has been questioning his own ability to track down criminals. And now, that he is called to a suicide, he is as confused as ever. Why does he even have to be there? Is there a secret agenda he isn`t aware of? What could possibly be interesting in a simple case of suicide? But the facts just don`t add up, and no matter how hard he tries, he is unable to come up with a solution, while trying to solve both the mystery of the death of an investment banker and his broken marriage. Will he succeed in either?
Ariel Benson is a woman who knows what she wants and isn`t afraid to do whatever it takes to get it. Even including murder. But she isn`t the typical cold-hearted serial killer you would expect, no. In fact, she has her own reasons for doing what she does. And she is good at it, too, never getting caught. Until now, she hasn`t met anyone, who would get even remotely close to her. But Daniel might just be the perfect candidate…