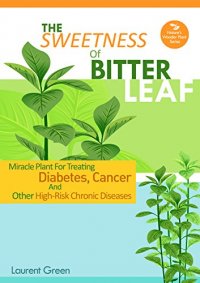 Free on 26th Feb 15 - 2nd Mar 15


No reviews yet.
About This eBook
The Sweetness of Bitter Leaf: Miracle Plant for Treating Diabetes, Cancer and Other High-Risk Chronic Diseases is an eBook that aims to promote knowledge about a plant with superb natural medicinal capabilities – the Bitter Leaf.

This eBook provides important information regarding Vernonia amygdalina, or the Bitter Leaf plant. Hopefully, the information would increase interest and awareness regarding this miraculous shrub's medicinal uses which include natural healing capabilities to treat several chronic diseases such as diabetes and cancer. Everything is written in a simple, easy-to-understand way that we hope will serve as an introduction to this wonderful natural cure.

The Sweetness Of Bitter Leaf
You will also find information regarding the herb's appearance, studies pertaining to its benefits, its medicinal uses, some practical recipes for culinary delights as well as some stories by real people who've experienced the advantages and which can be understood by ordinary people with no direct medical knowledge.

It's never too late to find out more about this alternative medicine nature has provided to us; a leaf through these electronic pages will provide you all the information you need to know.

Get familiar with the Bitter Leaf and its wonders of healing, treating and preventing disease, aid health and improve your very existence.