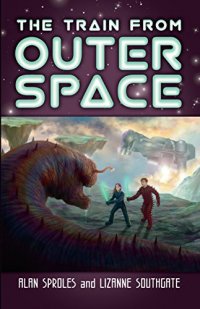 Free on 20th - 23rd Jul 16



or borrow free on Kindle Unlimited.
No reviews yet.
Also Available as:
Print Edition

A 12 yr. old boy and his dog rescue a tiny alien, Lil Dude, from a huge living train piloted by a vicious alien, Rotaxis. In an attempt to force Brady to hand over the little alien, Rotaxis accidentally sends Earth through a wormhole, placing it in harm's way. Now, in addition to protecting the secretive tiny being, Brady and his friends must figure out how to return Earth to its proper rotation before the planet is destroyed.
When Lil Dude tells Brady where to find a wormhole reverser, Brady and best friend, Franky commandeer Rotaxis' living space ship and head for space to fight off space monsters and become friends with strange and wonderful creatures. Who knew space travel would be so exciting?
However, just as Brady finds the wormhole reverser, he discovers he's a pawn in an intergalactic game and none of the players are on his side.
Now, with more enemies to face and no one left to trust, Brady and Franky must fight to make it back to earth and prevent an alien invasion apocalypse.
They reach home, where Earth is only minutes from disaster. There, Brady and friends defeat the last of the space alien monsters, reveal the startling true identity of Rotaxis and, with seconds left for humanity, save the planet from extinction, thereby winning the game.
And somewhere, far, far away, the Game Master applauds and begins to plan the next challenge…
If you like reading about science fiction and aliens you will love "The Train from Outer Space". Order your copy today!