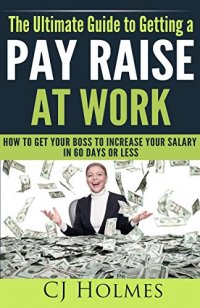 Free on 3rd - 7th May 15



or borrow free on Kindle Unlimited.
No reviews yet.
An Effective, Easy-To-Follow Method To Asking and Receiving a Pay Raise at Work
Do you think that your employer is undervaluing your worth as an employee? Does it feel like everyone else is getting promoted and you are overlooked?

In The Ultimate Guide to Getting a Pay Raise, you will learn how to get a pay raise and make more money at work. You will also learn specific step-by-step strategies to approach your employer, how to collect the necessary documentation needed, how to ask for a raise and how to negotiate a pay raise. To receive an increase in salary, you are going to ask your employer to invest more money in you. That can be a terrifying prospect, but you are not alone. Reading this book will help get you ready to negotiate your pay raise.

You will need to consider whether you deserve a raise, how to research the industry properly first, and how to build a good case as to why you deserve a raise. If you are not ready yet, this book will teach you how to become an employee who is worthy of a raise.

This book will go through the process of getting a raise, detailing every step, in an easy-to-follow way. Even if you have never contemplated asking for a raise, or you just do not think that it's possible — the information contained in this book will improve your chances dramatically.

Get ready for your pay raise!
Here Is A Preview Of What You'll Learn…
Understanding the Process and Preparation Needed How to Ask for a RaiseHow to Get a PromotionHow to Finally Get a Pay RaiseHow and What to Document to Present to Your EmployerTiming is Everything – Learn When to ActMuch, much more!

Download your copy today!