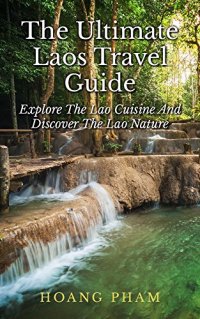 Dreaming of a Trip Through Laos?
Looking for a place to hang out that isn't full of tourists and figure Laos could be a good option? It really is.
Laos is a country that stands alone with its unique past and blend of cultures. While still somewhat hidden from the world, this jewel of a country is a tranquil place to visit and is sure to give you the adventure of a lifetime. From friendly locals to incredible foods, there's something for everyone here.
With " The Ultimate Laos Travel Guide" you'll find out just what you should see and do to really enjoy your journey through Laos.
Disclaimer: Since this is a quick guide, this Travel Guide is intended to give you inspiration when planning your travel itinerary.
you'll find out just what you should see and do to really enjoy your journey through Laos
If you're already in Asia, Laos is well worth adding to your itinerary. In fact, this long, landlocked country is worth a trip all on its own. The country has taken the many cultural influences over the years and turned them into something truly unique.
History comes to life here and it would be a shame to miss out on the incredible architecture, ruins and culture. The food itself is enough reason to visit, ranging from authentic French to a unique mixture of Asian cuisines.
Get started by traveling to some of the main towns, but don't forget to head off the beaten trail. You'll be amazed at how friendly the people are and how readily you'll take to the laidback lifestyle.
Learn the Hidden Secrets of Laos
"The Ultimate Laos Travel Guide" offers you plenty of wonderful things to see and do while you're in country.
Inside this guide you'll discover:
How to Find the Perfect Accommodation for Your Stay

Which Transport Methods You MUST Try . . . and Which to Avoid

Where to Discover the Explosion of Flavor That is Lao Food

The Amazing History That Makes Laos So Unique

Adrenaline-Inducing Activities Everyone Should Try

Where to Find the Hottest Parties and Where to Chill

A Bucket List to Take You Through the Best of It All
Ready to Learn More About Laos?
Download now and go plan your trip.

Scroll up to the top and click the buy button.