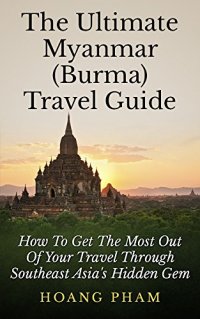 Would You Like To Know Why Myanmar Is Such A Unique Country?
Have you been traveling Asia or wanting to travel Asia? Have you heard very little from Myanmar? Are you thinking of adding Myanmar to your list?
You probably have heard stories from friends, families or surroundings traveling to Thailand and Vietnam. These are indeed the most popular places to travel and I do recommend you to go there some day.
However, if you are really into a unique country that is less traveled, Myanmar is sure one for the look out.
With "The Ultimate Myanmar (Burma) Travel Guide" you'll start to get first impressions about what Myanmar has to offer.
Disclaimer: Since this is a quick guide, this Travel Guide is intended to give you inspiration when planning your travel itinerary.
Travel Burma And Discover Its History And Culture
Maybe you've noticed that I've used Myanmar and Burma interchangeably, because both names are recognized internationally.
The names were an issue a while ago because of the regime in that country, perhaps the reason why it has such an interesting cultural history.
If you travel to Burma, you'll be sure to tap into a country with great architecture, where some buildings have been around for over 2,500 years!
Get Inspiration To Plan Out Your Itinerary For Your Travel To Myanmar
"The Ultimate Myanmar (Burma) Travel Guide" will get you started on planning your activities you'll never forget much easier than the resources available.
Inside this guide you'll discover:
Where To Stay Safely With Myanmar's Restrictions For Travelers

Which Transport Methods To Use For The Best Adventure

Local Dishes That You MUST Taste

The Secret Cultural Attractions Of Myanmar

Touristic Sightings And Adventurous Things To Do in Myanmar

How To Enjoy Your Evening Hours in Myanmar

Your Myanmar Bucket List To Tick Off
Would You Like To Learn More About Myanmar (Burma)?
Download now and go plan your trip.

Scroll up to the top and click the buy button.