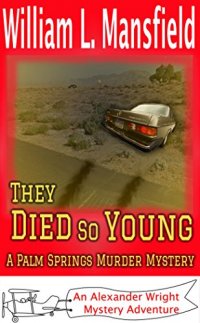 Free on 30th Sep 16 - 2nd Oct 16



or borrow free on Kindle Unlimited.
No reviews yet.
Also Available as:
Print Edition

For twenty years Alex Wright, the Laguna Beach surfing real estate appraiser, has believed that his parents died in a freak auto accident on their way home from a weekend in Palm Springs. Now he learns that they were killed, mob-style, with single bullets to their heads. Why would they deserve to die this way?
Meanwhile, Alex's wife, Rachel Fix, is not adjusting well to the settled life of wife and mother. She is drawn back to the excitement of celebrity and fame that she enjoyed during her ten years on the pro surfing tour.
So begins the seventh story in the Alex Wright Mystery saga. Will the marriage survive the tension of competing desires? With the help of his law enforcement buddies and a big assist from appraisal partner, Heather Maybach, Alex follows the thread of his parents' lives from their marriage to their untimely deaths. For, in fact, THEY DIED SO YOUNG…