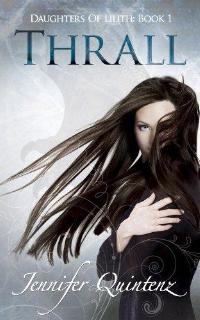 Praise for Thrall
"Before you even start this review, put down anything you are doing and go read Thrall. It's AMAZING! BREATHTAKING! Engaging and smart, Thrall leaves you speechless!"
– Savannah, Books With Bite
"How do I even begin to put all the crazy, gushy, ramblings in my brain about this book onto paper?!? Where to even begin?….This book is a MUST read!"
– Hooked In A Book review on Amazon.com
"This was an amazing little gem of a book… It is everything you could want in a book: thrilling, exuberant, filled with myth and well drawn out characters, and a plot that keeps you guessing right to the very end. Unlike anything I've ever read before! I would definitely recommend this to anyone looking for something different to read within the YA paranormal genre – or even the adult YA paranormal genre."
– Margay Leah Justice review on Amazon.com
"I read this book months ago and the plot still sticks with me in its entirety. This book really should be made into a movie – the imagery and plot is all there waiting for the big screen and whoever plays Braedyn is going to explode into superstardom. In the meantime, would Jennifer Quintenz please, PLEASE write the sequel because this is a story that must continue!"
– Memrid, Amazon.com review
"This was a terrific read! After I finished this book (at 2:00 AM on a work night) I immediately went in search for more from this author. I hope to see more from her soon!"
– Wynnona, Amazon.com review
About Thrall
Welcome to Braedyn Murphy's life. She's a typical—if shy—sophomore navigating the slings and arrows of high school life with her two best friends, Royal and Cassie. Then a new boy, Lucas, moves into the house next door, and Braedyn finds herself falling in love for the first time.
But Braedyn's normal life comes crashing down around her ears when she learns she's a descendent of Lilith, the mother of all demons – and that she might play a critical role in an ancient war between the Sons of Adam and the Daughters of Lilith. Turns out the right answers aren't always clear or easy. And as for "good" and "evil" – it all depends on how you choose to act.
Inspired by the ancient Mesopotamian myths of Lilith and her offspring, Thrall explores first love, strong friendships, and taking on adult responsibilities against the backdrop of powerful supernatural forces and life-and-death stakes.
About The Author
Originally from New Mexico (and still suffering from Hatch green chile withdrawal), Jenn includes Twentieth Television's WICKED, WICKED GAMES and AMERICAN HEIRESS among her produced credits. Outside of TV, she created THE BOND OF SAINT MARCEL (a vampire comic book mini-series published by Archaia Studios Press), and co-wrote THE RED STAR graphic novels (with creator Christian Gossett from 2007 to 2009). She's also the author of the award-winning DAUGHTERS OF LILITH paranormal thriller YA novels, and is currently realizing a life-long dream of growing actual real live avocados in her backyard. No guacamole yet–but she lives in hope.