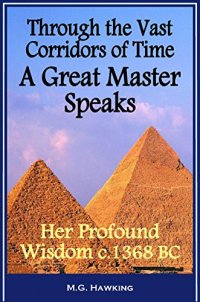 Learn the True Secrets of Power from an Ancient Egyptian Manuscript written by a Supreme Master over 3300 years ago
Welcome. This book takes you on an amazing journey through both space and time, from the remote ice peaks of the Himalayan Mountains to the highlands of Tibet, and far back through the ages to the mystic landscapes of ancient Egypt. Echoing down those vast corridors of time is the voice of the great Egyptian Master Kalika-Khenmetaten, who lived and authored esoteric manuscripts the time of the Kings of Upper and Lower Egypt, Amenhotep III and his successor Amenhotep IV (Akhenaten), over three-thousand-three-hundred years old ago.
Riveting, inspirational and richly enlightening, the story of Kalika is one of the most epic in history — and her writings reveal the greatest powers in the Universe and precisely how they can be attained.
We thank our wonderful readers for their requests for an enlarged edition of our first book exploring Kalika and her work, Kalika-Khenmetaten, The Supreme Egyptian Adept. We hope this will answer those requests for a volume that includes the full story of the original discovery of Kalika's manuscript, and an expanded, in-depth examination of her life and writings as found in her manuscript, The Golden Crown.
The material in this book, owing to its nature, will if allowed come to posess a depth that will take on a life of its own. The knowledge and concepts expressed, when absorbed, can yield enormous rewards. If studied with care and practiced with intent, you will be enabled to recognize and utilize the hidden, untapped power within you, bringing abundance and joy to every aspect of your life.
First U.S. Edition, 60,230 words. Includes background material from The Living Part of A Myth, Five Years in the Valley of Masters book series.
Books in The Living Part of a Myth Series

A Discovery of an Unparalleled Kind (Book One)

A Series of Extraordinary Events (Book Two)

Antiquity, Three Crowns, and a Princess Revealed (Book Three)

Through a Looking Glass Several Hundred-Thousand Years Old (Book Four)

Mystic Wisdom of the Masters, The Esoteric Knowledge of Great Adepts

The Illumination – A Story of the Magic of Life and The Light

Interview with an Oracle, Astonishing Revelations about Life and Our World

Ri-iha-mo – Tibetan Mountain Goddess, Encounters with a Legend of the Himalayas

Library-cataloging-data: paranormal, visionary, metaphysical, mystical, esoteric, occult, enlightenment, knowledge, Egypt, Himalayan mountains