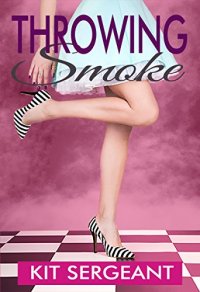 One oblivious science major + one lovestruck fraternity brother = one sweet story!
It is the early 2000s. The baseball players at Western U are listening to Aerosmith, making bets, and just generally being their obnoxious selves. Addy Enders is a devoted marine biology student too preoccupied with breeding fruit flies and avoiding said baseball players to have time for a boyfriend. Until she meets Jed, a handsome economics major. But there is something that Jed doesn't want Addy to know…
Ryan spends his time studying with his indifferent girlfriend and cleaning up after his fraternity brothers. The moment he sees The Girl, he knows she is unlike every other person in his life. Waiting outside the lecture hall for her to arrive adds a bright spot to his day, but is it worth risking his anonymity to introduce himself?
Throwing Smoke is an insightful and honest coming-of-age short story that explores the differences between male and female college angst and experiences. This short story prequel to the novel Thrown for a Curve will appeal to anyone who has ever admired someone from afar or had their heart broken.