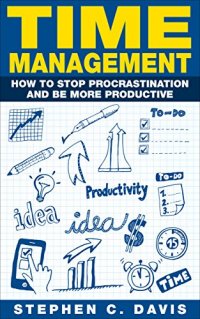 This book contains proven steps and strategies on how to manage time, become more productive to achieve your full potential!
Read on your PC, Mac, smart phone, tablet or Kindle device.
Do you feel burdened by deadlines, overwork and a lack of time to actually enjoy life?

Well… you actually need to quit worrying… and MANAGE YOUR TIME!
In this book, you will learn how to turn your life around by specifying your goals, breaking them down into easy-to-accomplish tasks and then utilizing a variety of exciting, easy-to-use time management techniques to become the person you always wanted to be.
Here Is A Preview Of What You'll Learn…
What is Time Management Avoiding ProcrastinationGoals Setting

Tasks BreakdownImportant Time Management TechniquesUrgency/Importance GridReverse Scheduling Planning and OrganizationMuch, much more!
Download your copy today!

Take action today and download this book for a limited time discount of only

$0.99!

Don't let your time fly by. Take CONTROL of your life now!!!