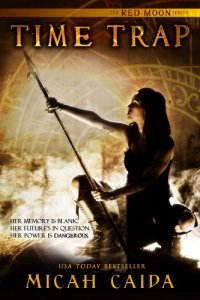 In this coming of age Red Moon trilogy, USA Today bestseller Micah Caida turns dystopian young adult fiction on its ear with a breathtakingly fresh science fiction, fantasy story that is as much a thriller as it is a romantic tale.
Rayen's memory is blank. Her future's in question. Her power is dangerous.
I awoke in an unknown desert landscape that I felt I should recognize, yet I have no real memory of this place or…who I am. A strange ghost told me my name and that I'm seventeen, but he disappeared just as I could have used some help. I was captured along with others my age who said the land was called Albuquerque, then I was handed over to a private school where at times things are as familiar as the nearby mountain range and as alien as seeing a reflection of my face. Everyone thinks I'm a Native American runaway, whatever that is, but the school has offered me a place to stay until they learn my true identity, or my memory returns. As if things aren't confusing enough, while stuck with a cocky computer-savvy boy and a gifted, but oddball, girl the three of us discovered a secret that threatens the existence of this world – and the future. In the middle of all this, I'm drawn to a seventeen-year-old boy who is as deadly as he is attractive and thinks I'm the enemy.
"I was totally captivated by every scene in the first book…The imagination of Micah Caida takes the reader on an exhilarating journey…TIME TRAP is originality at its best." ~~Amelia Richard, SingleTitles