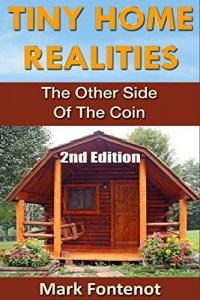 Free on 23rd - 25th Aug 15



or borrow free on Kindle Unlimited.
No reviews yet.
Is a Tiny House Right for You?
***Read this book for FREE on Kindle Unlimited – Download Now!***
New Updated and Revised 2nd Edition Released on 7/16/15
Is downsizing the way to go? Why are tiny homes so popular these days?
When you download The Tiny Home Realities, You'll learn about the history of tiny houses, the advantages they offer and some of the limitations and downsides of this lifestyle. You can decide for yourself if the tiny home movement, which has become very popular of late, is right for you!
Are tiny houses all they claim to be? Is there more to downsizing? Is it as cost effective as everyone says?
Tiny home Realities explains the pros and cons of downsizing your dwelling. It also describes the various types of tiny homes and the different methods of tiny house living. You'll also learn how to choose the right house for your lifestyle if you should decide to pursue this way of life.
When you download this book, you'll also learn about the advantages, drawbacks, and the additional concerns you'll need to know about tiny homes.
Download Tiny Home Realities now, and find out of tiny house living is right for you and your family!
Scroll to the top and select the "BUY" button for instant download.