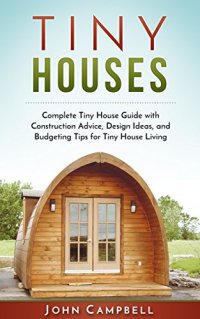 Free on 27th Sep 16 - 1st Oct 16



or borrow free on Kindle Unlimited.
No reviews yet.
Start Living your Tiny House Life!
Read for Free on Kindle Unlimited!
Read on Kindle Device, Tablet, Smartphone, Mac, and PC Now!
Complete Guide to Tiny Houses

Whether you are positive you want to live the Tiny House lifestyle or are simply curious, this E-Book provides all of the information you need.
Today, the tiny house craze is slowly reemerging as a popular choice for a number of reasons; to cut back on high-energy costs, save on property taxes, the flexibility of movement, downsizing, and environmental reasons. With the changing in the world, these reasons have become the spark that ignited a new phase of designs that still hold true to the traditional purpose of a home but with a more modern twist to it.
Whatever your reasons for joining the tiny house movement, it is evident that it is a concept that is quickly gaining traction. Whether you're single, watching your budget, or protecting the environment there is a tiny house with your name on it. They are cropping up all over the world because their pros have definitely outweighed the cons.
Here are a Few Statistics about Tiny Houses:
55% of Tiny House Owners Enjoy a Bigger Savings Account

65% of Tiny House Owners are Debt-Free

78% of Tiny House Owners are Mortgage-Free
Here are Just a Few Things You'll Learn:
History of Tiny Houses

Pros and Cons

Considerations of Making the Switch to a Tiny House Lifestyle

Legal Issues and How to Handle Them

Choosing Tiny House Locations

Basic Constructions Advice

Design Ideas and Tips

Interior Design Ideas and Tips

Budgeting Tips
Whatever your situation is, the E-Book will provide you extremely valuable information on Tiny Houses.
Take Action Now and Download this great E-Book for Only $0.99!