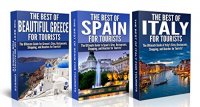 Free on 17th - 21st May 15



or borrow free on Kindle Unlimited.
No reviews yet.
The Best Of Beautiful Greece for Tourists: The Ultimate Guide for Greece's Sites, Restaurants, Shopping, and Beaches for Tourists!
GREAT BOX SET! VISITING ANY ONE OF THESE THREE AMAZING COUNTRIES? GET YOUR TRAVEL GUIDE NOW!
Greece:
Greece has always had a charm that enchanted the world since the ancient times. The birthplace of Greek mythology, ancient Greek civilization, and Greek philosophy, society and culture, this country has greatly influenced both the ancient and the modern world.
This country is also one of the most popular tourist destinations in the world. It has numerous ruins and archaeological sites, which gave modern societies a glimpse of how complex and advanced Ancient Greek society really was. These were proof that they had far more superior technologies and way of living than most parts of the world during the ancient times. Some of these sites are believed to be where Greek myths came to life. Tourists and academics alike flock to this country to study and marvel at these ancient sites.
Another attraction in Greece is the food experience. Traditional Greek cuisine is world-renowned for its exotic, exciting, and interesting array of food flavors, tastes, and textures.
Because of its location in the Mediterranean, Greece is also host to some of the world's most wonderful beaches. Greece is truly blessed with pristine waters and fine beaches, the best that nature can give.
Here Is A Preview Of What is inside…
Locating GreeceAncient Sites in GreeceGreek Dining ExperienceShopping in GreeceGreece's Famous BeachesMuch, much more!
Spain:
Spain is a country that is filled with a lot of delightful restaurants. Whether you are a lavish spender or a traveler with a tight budget, you can easily find an eatery that will suit your tastes and preferences. Aside from the menu, the designs of these establishments are all carefully planned to make sure that everyone will have a pleasant dining experience.
With more than 5,000 miles of breathtaking and sandy coastline, searching for a beach in this country can be a very easy task. Tourists usually flock towards popular areas such as Costa Blanca, or Costa del Sol. However, there are still other beaches that are as beautiful as the two but less congested and more peaceful.
Here Is A Preview Of What is inside…
Restaurants in SpainBeaches in SpainGalleries and Museums in SpainSpain's Shopping Districtsnatural Wonders in SpainAmusement Parks in SpainMuch, much more!
Italy:
Recent data on international tourism from the United Nations World Tourism Organization and the World Bank reveal that Italy ranks fifth as the most popular tourist destination in the world with more than 46 million tourists annually generating revenues of approximately €136 billion or an equivalent of more than 180 billion US dollars.
Italy is known for its contributions in many fields which have brought about progress and continue to influence human development. Paying homage to many of the great names that enriched civilization is one of the reasons why many tourists consider it as their favorite destination with great passion.
Here Is A Preview Of What is Inside…
The Passion for Italy The Sicilian SurpriseThe Florentine FulfillmentThe Milan ManiaThe Roman ResplendenceThe Venetian VentureMuch, much more!
Download your copy today!
Tags: Greece, greek, greek restaurants, greece archaeological sites, acropolis, parthenon, greek shopping, greek beaches, greek islands, greek food, restaurants, beaches, athens, Mikinos, patra, greek tourism, greece travel guide, greece handbook, italy, italian food, italy's shopping, italy's restaurants, italy's beaches, italy tourism, italy language,