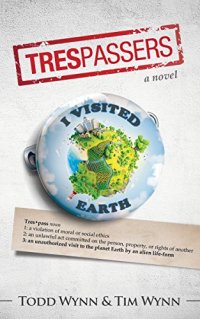 Free on 16th - 20th Jan 16


No reviews yet.
Also Available as:
Print Edition

This book appears to be unavailable on Amazon.co.uk at the current time. If this is incorrect, please let us know here
B.R.A.G. Medallion Winner 2015
"a fun, immersive sci-fi romp . . . set in a world that's worth revisiting." – Kirkus Reviews
"blind-sided me . . . extremely well-written." – OnlineBookClub.org

When four alien visitors arrive on Earth and disappear into the cornfields of Indiana, it is Stewart Faulkner's job to find them. Who they are, where they're headed, and what's important enough to make them jump from a moving spaceship are all questions that Stewart must uncover. And he will have to do it all while

1) training a new team member named Mindy–who is developing a crush on him;

2) flying under the radar of his boss to make sure he's not removed from the case; and

3) staying one step ahead of a government agent named Karl Bruner, who is determined to expose the presence of aliens on Earth.
As Stewart unravels the layers of this mystery, he discovers that these aliens are connected to his own past in ways he never would have guessed.
A Science-Fiction novel, available as Kindle ebook or standard paperback book, "Trespassers" should appeal to literature & fiction fans, as well as fans of action & adventure. It includes both men's adventure and women's adventure. The book is appropriate for teen & young adult readers, as well as new adult & college, especially those interested in humor, dark humor, and satire. Fantasy fans will also enjoy this read, which dabbles a bit in the realm of speculative science & scientists, even dipping slightly into urban legends, for a well rounded entertainment experience.