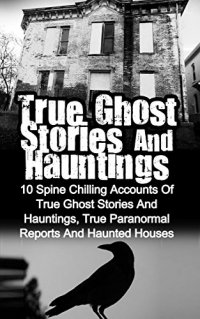 Bargain on 8th - 12th Dec 18



or borrow free on Kindle Unlimited.
No reviews yet.
10 Spine Chilling Accounts Of True Ghost Stories And Hauntings, True Paranormal Reports And Haunted Houses
Today only, get this e-book for just $2.99. Read on your PC, Mac, smart phone, tablet or Kindle device.
Over the years, there have been many strange or unexplained phenomena that people have experienced or witnessed in their lives. These experiences have been passed on from generation to generation. However, as time passed most of these may have been forgotten or simply remained unsolved.
There are hundreds of paranormal stories and personal experiences that have happened over the last century but there are some that truly stand out and have become incidents that people will never forget. Take for instance "Australia's Most Haunted House" Monte Cristo homestead or the Clark Air Base in the Philippines.
How about the story of Jack the Ripper that up until now is still unsolved or the famous Amityville Horror House that has been made into a movie over and over again. If you are a fan of these hair-raising and bizarre stories, then this book is the one you are looking for.
You will find mind boggling and chilling tales from different countries. Get to know why an area in Boston, Ohio is called Hell town. Explore at your own risk the haunted house in Beijing, the story behind the historical London Bridge or the haunted areas inside the White House.
Here Is A Preview Of What You'll Learn…
True Ghost Stories And Hauntings – The Most Famous House in the WorldTrue Ghost Stories And Hauntings – The Town of Four TownsTrue Ghost Stories And Hauntings – The Flaw on the Joelma BuildingTrue Ghost Stories And Hauntings – Why the Buzz on Chaonei No. 81?True Ghost Stories And Hauntings – Castle of Goede HoopTrue Ghost Stories And Hauntings – The Hospital Imprinted with SorrowTrue Ghost Stories And Hauntings – The Tower of LondonTrue Ghost Stories And Hauntings – Remembering Those that Sailed with UsMuch, much more!

Download your copy today!
Take action today and download this book for a limited time discount of only

$2.99! Love spine tingling ghostly journeys? Download now to take a walk with us through these unusual haunted stories!
Tags: true ghost stories and hauntings, true paranormal hauntings, true paranormal stories, bizarre true stories, true paranormal, true ghost stories, unexplained phenomena, haunted asylums, haunted houses, haunted ghost stories,