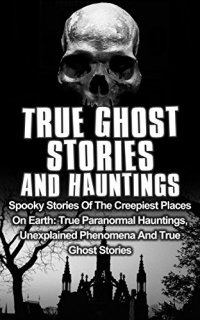 Spooky Stories Of The Creepiest Places On Earth: True Paranormal Hauntings, Unexplained Phenomena And True Ghost Stories
Today only, get this e-book for just $2.99. Read on your PC, Mac, smart phone, tablet or Kindle device.
Places are, in the strictest sense, just a particular site where things occupy space. However, these areas can be witness to certain happenings that include pain, suffering, and rage. Experts believe that locations where intense negative feelings and events have taken place, have the potential to retain that negative energy.
These places are where supernatural and paranormal beings lurk. Let's face it, our world is not a complete paradise and there are hundreds of tragedies that occur every year. Places where hauntings of ghosts and other paranormal entities occur and usually have gruesome, creepy, and unbelievable back stories of real, historical events.
This book will provide you with a list of some of the scariest places on Earth that you probably haven't heard of, but are backed up with creepy histories and spine-tingling hauntings.
Here Is A Preview Of What You'll Learn…
True Ghost Stories And Hauntings – The Haunted Ramoji Film CityTrue Ghost Stories And Hauntings – The Bunnyman BridgeTrue Ghost Stories And Hauntings – The Cursed Island of PovegliaTrue Ghost Stories And Hauntings – Tuol Sleng Genocide MuseumTrue Ghost Stories And Hauntings – Ghost Island of HashimaTrue Ghost Stories And Hauntings – Sinister Leap CastleTrue Ghost Stories And Hauntings – Clark Air Base Hospital HorrorsMuch, much more!

Download your copy today!
Take action today and download this book for a limited time discount of only

$2.99! If you love a spine tingling read of creepy hauntings and true ghost stories, then download this book now!
Tags: true ghost stories and hauntings, true paranormal, true ghost stories, true paranormal hauntings, bizarre true stories, true paranormal stories, unexplained phenomena, haunted houses,