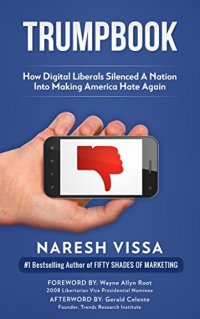 Free on 20th - 24th Feb 18



or borrow free on Kindle Unlimited.
No reviews yet.
WARNING!
THE CONTENT IN THIS BOOK IS CONTROVERSIAL AND MAY BE CONSIDERED OFFENSIVE OR DISTURBING TO DIGITAL LIBERALS.
READER DISCRETION IS ADVISED.
The Election of 2016 was a wake-up call to intolerant digital liberals. They got what they deserved because they were delusional enough to not even see Donald Trump's victory coming. The results made nearly half the country laugh, smile and proud.
Donald Trump was not elected by his voters. It was his biggest detractors – mainstream liberal news media, loudmouth liberals, and digital liberals alike – who built up his support to keep his campaign running.
Through real Facebook posts and rigorous primary and secondary research, TRUMPBOOK explains how President Trump's haters were actually his biggest supporters.
Chapter subjects include:
– How digital liberals elected President Donald Trump
– Why do Kanye West and other African-Americans support Donald Trump?
– Why so many Indian-Americans support Donald Trump
– Why Melania Trump will make American women hot again
– Why Colin Kaepernick and other athletes kneeling during the national anthem doesn't do anything for anyone
– Why NBA coaches Steve Kerr, Gregg Popovich, and Stan Van Gundy should shut their mouths about politics
– Why Meryl Street, George Clooney, Leonardo DiCaprio, and Hollywood should shut their mouths about politics
– 5 ways to defeat Trump in 2020
– The craziest Trump-related Facebook posts you'll ever see
If you have felt bullied by reading political posts on Facebook and other social media, or if you think your friends hate you just because you voted for President Trump, then TRUMPBOOK is for you. Hopefully, this book will resonate with your situation and give you the vote of support that you're not alone.