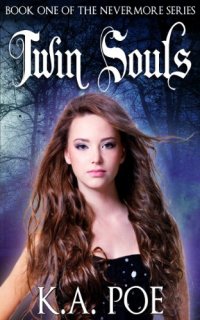 Also Available as:
Print Edition

Twin Souls
Seventeen year old Alexis finds herself on the eve of her eighteenth birthday. What generally means a step into adulthood instead opens its way to a terrifying truth about not only her family, but herself. She comes from a long line of vampire hunters, and her real dad wants her to carry on the family quest. At the same time, she is falling for a new boy at school who has his own secret. He is a vampire. Alexis is forced to make a decision from which there is no turning back. – Will she deny this newly discovered heritage, or embrace it.
This novel is approximately 64,000 words in length – 322 pages long.
More by K.A. Poe
Twin Souls (Nevermore, Book 1)
Hybrid (Nevermore, Book 2)
Sacrifice (Nevermore, Book 3)
Destiny (Nevermore, Book 4)
Darius – Episode One (Through the Rift)
Praise
Like a beautifully composed piano composition, Twin Souls connects with readers – presenting a vampire novel that makes them question who the real monsters are.
-Booknut 101
It can be difficult to write about vampires after twilight since it
Reviews:
No reviews yet.
Third Party Reviews:
No reviews yet. Why not link one?

You can suggest a blog review here
---
<< Next post in Today's Free eBooks
2013-08-01