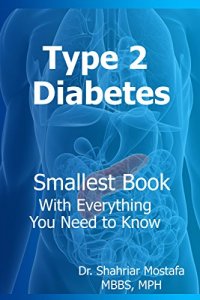 Free on 1st - 5th Jul 18



or borrow free on Kindle Unlimited.
No reviews yet.
Diabetes is a common disease. About 350 million people worldwide have diabetes. It is easy to control. It does not keep you from anything the life has to offer. But there is a catch. You have to control Diabetes all your life.
This book is small, and you do not have to read this book from page one to the end. You can start anywhere and slowly finish it. Use the table of contents to find the topic of your interest and start from there. You can finish this book in just 1 hour. In 1 hour you will have all necessary information on Type 2 Diabetes.
Following are some example you will learn from this book;
What is Type 2 diabetes, why does it happens.Symptoms or signs of Type 2 diabetes and how it is diagnosed.How to monitor blood glucose and with less pain.What are the treatment options.Complications of type 2 diabetes and how to recognize it.Best diet, supplement and lifestyle modification for type 2 diabetes.
This book will give the confidence, hope, and information to live a normal, happy life with Type 2 Diabetes.
This book is the best choice as a gift to your friends, coworkers or family who has Type 2 Diabetes. Or recently diagnosed with Type 2 Diabetes.