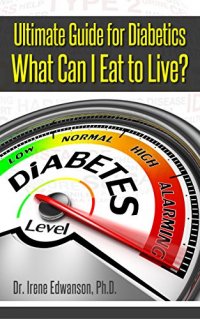 Free on 1st Jun 15


No reviews yet.
This book appears to be unavailable on Amazon.co.uk at the current time. If this is incorrect, please let us know here
Ultimate Guide for Diabetics.

What Can I Eat To Live?
It can be a challenge to know what to eat when you have been diagnosed with diabetes, or to know how to cater for a friend or family member. However, it is still possible to cook a wide range of delicious meals that you really enjoy eating, be it a midweek supper for one or a large meal shared with friends. There is no need for 'specialist' ingredients or expensive additives, and no need to be restrictive. Almost any 'favorite' recipe can be adjusted to be suitable for a diabetic diet, with a little attention to the balance of fat, sugar and nutrients in the final dish.
The recipes in this book have been selected to have a good balance of dietary fibre and calories, and to contain long-lasting sources of energy from starchy foods, vegetables and pulses. Along with main meals, we have also included a few of the wide range of deserts tailor-made for a diabetic diet — it is a myth that diabetics cannot have any sugar at all. Nor is it the case that diabetics have to eat 'separately' from non-diabetics — these recipes can all provide a healthy and enjoyable meal for everyone.
Making the right food choices for diabetics can seem like a daunting task, but it's not as difficult as it once was. Now that there is a vast plethora of information out there about how to manage diabetes and what can and cannot be eaten, well, it can be found. However, researching takes time and it might be time you do not have. Therefore, the information has been gathered from professionals in the healthcare industry about what diabetics should and should not be eating and organized for your purposes in this book.
This book includes information on:
Chapter One – The Importance of Healthy Eating
• Healthy Eating Defined
• Why eat healthily?
• Meal Plans
Chapter Two – Grains
• Pastas
• Breads
• Cereals
Chapter Three – Proteins
• Beef, Pork, and Lamb
• Poultry
• Fish
• Carb Counters, Plate Method, and Glycemic Index
Chapter Four – Vegetables & Fruits
• Non-Starchy Vegetables
• Starchy Vegetables
• Fruits
• Beans
Chapter Five – Carbohydrates
• Starch
• Sugar
• Fiber
Chapter Six – Tasty & Delicious Recipes
• Low-calorie meals for a quick lunch or supper
• Mouthwatering deserts —including chocolate cake
• Main meals for all the family
• Dishes to celebrate special occasions
We hope you will enjoy this short introduction to cooking for a diabetic diet, and will found some interesting and tasty ideas for dishes. It need not be scary or daunting to cook meals which are suitable for both diabetics and non-diabetics to enjoy together — in fact the principles of a high-fibre, low-fat diet with reduced amounts of processed sugar and refined carbohydrates are something that everyone can benefit from.
Download your E book "Ultimate Guide for Diabetics. What Can I Eat To Live?" by scrolling up and clicking "Buy Now with 1-Click" button!
Bon apetit!
Tags: diabet cookbook, diabetes diet, diabetic chocolate, diabetic recipes, diabetes cure, diabetic living, diabetic, cooking for a diabetic diet, diabetics sugar, Cocoa Powder, Sweeteners, Canned foods, Agarve Syrup, Celeriac, Almond flour, GI score, fructose and glucose, gluten-free alternative to wheat flour, high-fibre diet, low-fat diet,reduced amounts of processed sugar, refined carbohydrates